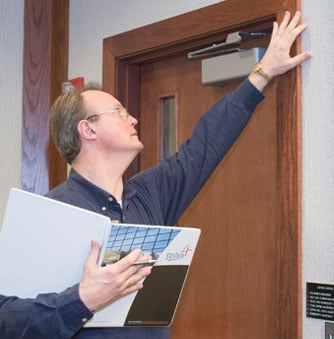 The mistake that most business owners make is assuming that the only areas of an office needing cleaning involve vacuuming and dusting.  On the contrary, the doors of a work establishment should always be on the list as well.  It is vital to remember when outsourcing your office cleaning needs, make sure that you add the doors to the list.
Every aspect of your business is a reflection of you—the owner.  And as the saying goes, you never get a second chance at a first impression.  The doors of any business or office are the most used, most touched, and most sullied of any other area.  They are used day in and day out, on an everyday basis.  That is why they should be one of the leading cleaning priorities for your commercial cleaning service.
Every employee, and every customer, that enters into your business has to do so through the use of a door.  Whether your customer is coming to shop or conduct business with you or your employees are gaining access to a breakroom, a restroom, or an office.  And don't think that you can get away with minimized cleaning of you have dark-colored doors.  All that means is the dirt, and grim is still there, lurking and waiting, and you just don't notice it as much.
Still not convinced?  How about three more reasons why your doors need to be cleaned on a weekly, if not daily basis.
Productivity
If you remember anything, remember that anyone who touches the doors of your establishment is setting you up for the spread of germs and viruses.  This, in turn, can lead to illnesses and lost days of work due to calling in sick.  And again, that will lead to a loss of productivity that will filter down to your company's bottom line.
As with the taking on of any new endeavor, the decision to outsource can possibly impact your profits.  However, not keeping your doors clean, and allowing the spread of germs can have an even more significant impact.  You can either take the chance of your staff and crew continually calling off, or you can decide to outsource a company that will make sure that cleaning of your doors is done to your satisfaction.  Because, whether or not you want to fully admit it, your doors will get dirty and grimy.
Spread of Disease
Any time that anyone enters through a door, they are either having to grip a doorknob and turn it, or having to push against it or pull on it.  This is where the whole problem lies—the continual day in day out human contact, which then segues into the transferring of germs and viruses.  Scientists have established that the common cold can live on most surfaces for a full day, which certain bacteria can live for up to five months.  Yuck!  Who really wants to expose themselves to that kind of illness if it can at all be prevented.
It is subsequently vital that you remember that your doors are as much of a necessity in the overall cleaning of your office, as the carpet or hard surfaces are.  It all comes down to the fact that more often than most realize, the cleaning of your doors can be not only cost-effective, but also beneficial for you, your staff, and your customers.
Presentation
First impressions are everything and they as something no one can get a second shot at.  In fact, in more cases than, the first impression a customer forms of a business can make or break their decision to returning.  That is why it is vital that you make sure that you put your best foot forward from the first moment.
I am sure most people are with me on this, but I do not like the idea of reaching out to grip a doorknob only to find it sticky and grimy.  Talk about gross!  Customers expect, when entering a business, for that same establishment to take a fraction of pride in how it presents itself.  The business should take pride in its surroundings, which then reflects upon the owner as well.  Pride helps to build a foundation of trust and shows your customer the belief in the service you offer.   As such, a doorway is the first entry a customer has into your business, and it should be the first impression they receive.